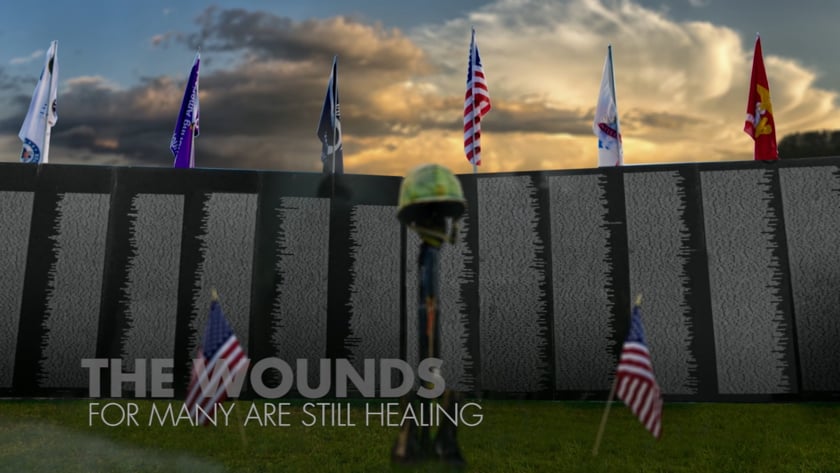 March 29 is Vietnam Veterans Day, a day set aside for Americans to honor the courage and sacrifice of those who served in the Vietnam War.
The United States of America Vietnam War Commemoration is a program administered by the Office of the Secretary of Defense to commemorate the 50th anniversary of the Vietnam War. The U.S. began commemoration of the Vietnam War's 50th anniversary in 2012 and will continue through Veterans Day 2025.
The Exchange is a 50th Anniversary Vietnam War Commemorative Partner, planning and conducting events and activities that recognize Vietnam Veterans and their families for service, valor and sacrifice in conjunction with the Commemoration.
For more information on the program, visit www.vietnamwar50th.com.
Complimentary Commemorative Pin for Veterans
Everyone who served on active duty in the U.S. Armed Forces at any time from Nov. 1, 1955 to May 15, 1975, regardless of location, will receive a Vietnam Veteran Lapel Pin at their local Exchange during ceremonies planned throughout the day, March 29. This lapel pin, which has become a lasting memento of the Nation's thanks, is provided in partnership with The United States of America Vietnam War Commemoration.
For more information on the times of the March 29 ceremonies at local Exchanges, see the events list below. Those without installation access should contact their local Exchange or the installation's Visitor Center for information on gaining access to a ceremony.
Looking for a Pinning Event?
To find a pinning event location near you, take a look at our Facebook events list.
National Vietnam War Veterans Day
Dear Vietnam Veterans,
The Army & Air Force Exchange Service extends its deepest gratitude for your distinguished service to our Nation.
As a Vietnam-era Veteran, this remembrance holds special meaning to me. In the 1970s, the American public did not fully understand your sacrifices. Vietnam Warfighters were treated differently from those who came before or after them. Many of you did not receive the proper homecoming your selfless service and sacrifice deserved. It is our duty and privilege to give you a long overdue and well-deserved hero's welcome.
PXs and BXs around the world will host pinning ceremonies for Vietnam Veterans on March 29, National Vietnam War Veterans Day. We do so with the utmost concern for your health and safety as participating locations will adhere to recommended health guidelines, require face coverings per DoD guidance and maintain safe social distancing requirements at these contactless events. Protecting military communities remains the Exchange's No. 1 priority as all necessary precautions are taken to safely honor your amazing service to our Nation.
For more details on event times and location, please see the "Looking for a Pinning event" link on this page.
Since 2013, the Exchange has partnered with the United States of America Vietnam War Commemoration to honor Vietnam Veterans for their service, valor and sacrifice. Veterans who are unable to attend their Exchange's recognition event can find an upcoming event or Commemorative Partner in their area. Additional information is available through the Commemoration office at 877-387-9951 or whs.vnwar50th@mail.mil.
Thank you for your service and the opportunity to acknowledge all you have done for our Nation.
Veteran for Life!
Tom Shull
Director/CEO
Army & Air Force Exchange Service