Helpful Tips for your Furry Family
When to Switch From Kitten Food To Cat Food
Most cats are considered kittens until around 12 months of age.
During this period of growth and development, kittens need a complete and balanced kitten food. Once they've reached adulthood (according to their breed), it's time to transition to an adult cat food.
Can Kittens Eat Adult Cat Food?
Kittens have different nutritional needs than adult cats, so they need a kitten food to support those needs.
If the food label says it's formulated "for all life stages," however, that means it's safe for both kittens and adult cats to eat.
When Can Kittens Eat Dry & Wet Food?
Although kittens shouldn't eat adult cat food before they've fully matured, they can begin eating dry kibble and wet kitten food much earlier.
By three to four weeks, kittens can begin eating moistened dry kibble or wet food. Between six and eight weeks, kittens are fully weaned from their mother's milk and can eat dry or wet kitten food.
Why It's Important to Switch to Adult Cat Food
Kittens experience rapid growth and development, plus, they're playful and have a lot of energy. Kitten food has higher calories and more protein and fat to support energetic, growing kittens.
It's also formulated with DHA to help support brain and vision development, plus vitamins and minerals needed for their developing immune systems.
Once they reach maturity, cats don't need the same amounts of those nutrients. Plus, they're often less energetic, so eating a high-calorie kitten food could result in weight gain.
When & How to Switch from Kitten Food to Adult Cat Food
Around your kitten's first birthday (or between 18 months and 2 years for large breeds), it's time to switch to an adult cat food.
We recommend transitioning to adult food over a 7- to 10-day period to help avoid any digestive upset. Here's how:
Days 1-2:Serve 3/4 of the normal amount of kitten food and add 1/4 of the new adult cat food.
Days 3-4: Serve half kitten food and half adult cat food.
Days 5-7:Serve 1/4 kitten food and 3/4 adult cat food.
Days 8-10:Serve only the new adult cat food.
If your cat resists eating the new food, slow the transition and give her more time before you increase the amount of adult food. Consult with your veterinarian for additional tips on making the switch from kitten food to adult cat food.
Helpful Tips for your Furry Family
How often should I give my dog a flea and tick treatment?

You probably already know it's important to protect your dog from flea and tick bites, but are you familiar with how often you need to use a dog flea treatment for effective coverage?
Flea and tick bites can irritate your pet's skin or make him sick, as often these pesky insects carry diseases like Rocky Mountain spotted fever and Lyme disease. These pests can be a threat year round, but they're especially problematic in the summer when their populations flourish. How often you have to treat your companion will depend on which products you use, so here is a helpful guide to help you remember when it's time to treat your family pet.
Flea collar: Products like Hartz® UltraGuard Plus® Flea & Tick Collar for Dogs and Cat are able to protect your pets against these pests for up to seven months.
Flea drops: Hartz flea drops will protect against bugs, eggs, larvae and reinfestation for up to 30 days at a time.
Flea shampoo: Shampoos like Hartz® UltraGuard Plus® Flea & Tick Dog Shampoo will kill any fleas and ticks on your pet, and protect against reinfestation for two weeks.
This content is provided by the flea and tick experts at Hartz. We believe in offering safe, effective and affordable parasite prevention for every dog and cat.
Helpful Tips for your Furry Family
Choosing the Right Toys for Your Dog

Buying fun toys and accessories is one of the most rewarding aspects of dog ownership. Toys help keep our dogs happy throughout the day and become great bonding tools when it's time to play. From the soft and squeaky to the rubber and rugged, there is a wide world of toys to explore, and choosing the right dog toys is important for the overall health of our dogs. Whether you've got a new dog joining the family or just looking to surprise your furry friend, check out these tips on choosing the right toys for your dog.
What Dogs Really Want
Since we can't just ask what our dogs really want (at least not yet), we'll need to make some observations to choose the right dog toy. Every dog is unique but rest assured, there are plenty of toys that will fit your furry friend's play needs.
First, it helps to understand some basic dog instincts. Dogs are naturally packed animals. It is important for them to feel like part of a group with companions to play and snuggle. Interactive toys, for play between pet and pet parent, support the need to be included socially while solo toys help occupy the restless dog and even stand in as a friend while we're away. On the other hand, dogs can become destructive when bored.
Many dogs also possess the natural instinct to "hunt". Yes, even the cutest Chihuahua is said to have descended from an ancient breed of wolf. Toys that squeak and raddle nurture this idea of captured "prey". Once they have retrieved their prey during a game of fetch, some dogs will destroy their catch.
Chew Toys
It is important to have confidence in a chew toy. The best chew toys are versatile, challenging, and long-lasting. Though it can be daunting to choose from the wide variety of chew toys, there are some key factors to help narrow down the choices. Is your dog an aggressive chewer, trying to destroy any toy in its path, or does it have soft chew habits? Will your dog need a toy to keep him busy while you're away or will he be supervised during play?
The JW Cuz combines the durability of rubber with a stimulating shape and smooth feel. It is equipped with the patented JW Squeaker making it safe for solo play, but can double as a fetch ball. If your pup would prefer something else, we've got plenty of dog chew toys on hand fit for even the toughest of chewers.
Fetch Toys
Whether you roll a ball or toss a flyer, the game of fetch never seems to get old. Fetch toys are great for high energy dogs who need lots of exercise. ChuckIt! elevates playing with your dog to a new level through ergonomic design and performance enhanced design. The little annoyances of fetch are obsolete with the iconic ChuckIt! Launcher; no more repeatedly bending over and handling a slimy ball only to toss it a few yards. Both you and your dog will be amazed at how far the ball will fly!
Tug Toys
It's dog vs. pet parent in a classic match of tug-o-war. Who will win? Everyone! Rope tugs are ultra-versatile toys made from braided rope. Perfect for dogs that love a 1-on-1 tug contest or those who prefer a soft toy to carry around. Rope toys are also an effective way to keep your dog's teeth healthy. As your dog chews, the fibers work as a type of doggy floss to help prevent dental disease.
Treat Toys
Treat toys are the ultimate boredom-busters for dogs that thrive on a challenge. Dog treat toys come in lots of fun varieties to pique your pup's interest and keep them engaged. Fill them up with treats and watch your dog work for the reward stashed inside. Treat toys keep trouble-makers busy, by giving dogs a sense of purpose and accomplishment. Put your dog's favorite treats inside the iconic JW Hol-ee Roller for hours of mental stimulation. Dog treat toys also come in the forms of puzzles, mazes, and more. This multipurpose toy is a great treat toy for solo play time, but is built tough for fetch or tug when you're ready to join in the action.
Plush Toys
Plush toys offer more than just play; they can offer company and companionship for dogs. Many dogs enjoy cuddling with their plush toys, proudly carrying them around the house. Plush toys with squeaks and other noise making features engage dogs on an innate level to hold their interest. Best for light chewers, plush toys are usually filled with a soft stuffing and aren't designed for long chew sessions. Because no one likes cleaning up the scattered remains of a plush toy, right, Fido?
Check out Petmate dog toys at www.shopmyexchange.com. There's sure to be one that your dog will love.
Helpful Tips for your Furry Family
How To Clean A Petmate Gravity Pet Waterer

Did you know that harmful bacteria's like E.Coli and Salmonella can grow in your pet's water bowl? According to multiple studies, your pet's food and water bowl can be one of the germiest things in your home. As your dog or cat eats their food and then goes to drink water, leftover crumbs can fall from their mouth's into their water bowl, leaving behind bacteria that can flourish in water.
As you may already know, dogs and cats need access to fresh water all day for their health. As a pet-parent, it's your responsibility to make sure they have access to fresh, clean water every day. However, for some people, life is busy and refilling the dog's water bowl is not always the first thing on our minds. Which is why a lot of pet parents invest in pet water fountains, also known as gravity waterers. Unfortunately, with these types of pet waterers we can easily go weeks without thinking about cleaning the water bowl because we are refilling it less often.
HOW OFTEN SHOULD I CLEAN MY PET'S WATER BOWL?
For your pet's health and well-being, you should be providing your pet with constant access to fresh, clean water. Especially during hot summer months. To keep your pet healthy, you should be cleaning out their water supply with fresh water once a day. You should clean your pet's water fountain or bowl every few days or at least once a week. If you have a standard water bowl, cleaning is easy. Just rinse and scrub with warm, soapy water and dry it completely before you refill with new water. But for some with pet gravity waterers or fountains, cleaning may be a little more of a challenge. But don't worry! Keep reading for instructions on how to clean your pet's gravity waterer fountain.
SUPPLIES YOU'LL NEED FOR CLEANING:
Warm water
A baby bottle brush
Soap
A clean, dry towel
HOW TO CLEAN YOUR PETMATE GRAVITY WATERER:
Separate the bottle that stores the water from the base of the fountain. This can usually be done by unscrewing or lifting the bottle from the base.
Unscrew the cap. Your cap may or may not have a filter strapped inside. Leave the filter alone, unless it's time to change it out. Dispose of the old water. Or water a plant with the old water if you don't want to waste!
Put soap on the baby bottle brush and fill the bottle with warm water. Use the brush to scrub all around the inside of the bottle like shown below:
Rinse out the bottle with warm water. Make sure to rinse out the bottle at least 2-3 times so that there is no leftover soap in the bottle. No dog - or cat - wants to drink soapy water. Set the bottle aside after you've rinsed.
Next, rinse the base with warm water. If needed, add more soap to the bottle brush.
Use the baby bottle brush to scrub and clean the base of the fountain. Be sure to scrub the walls and crevices of the base. Germs like to hide in these places.
Once you've scrubbed the entire base, rinse with warm water.
Last, use a clean dry towel to completely dry both the inside and outside of the bottle and the base.
Cleaning your pet's waterer once or twice a week will keep your pet hydrated, happy, and healthy. You may even notice that your pet is drinking more water. This is a good sign that they are enjoying the frequent changes and daily water changes.
As a responsible pet parent, you'll feel confident and happy knowing you're providing your pet with tasty, fresh, clean water.
Helpful Tips for your Furry Family
3 Unusual Cat Behaviors Explained
When was the last time you could honestly say that you had a grip on your cat's body language?
Understanding your feline on a deeper level can help you maintain animal wellness and keep your furry friend happy. However, not all cat behavior is easy to decipher. Here are some of the most unusual reactions you may see from your cat, as well as why they continue to happen.
1. Meowing while you're on the phone
Many cat owners will tell you that they often see their pets begin yearning for attention as soon as they get on the phone, according to Global Animal. This is because when you're talking on the phone, the animal doesn't understand that you're speaking to another person – he or she doesn't envision the individual in the room. In turn, your cat may simply think that you're trying to speak to him or her!
2. Making noise in the wee hours of the morning
Cats are known for meowing excessively in the morning, and as Reader's Digest magazine reported, this harkens back to their natural instinct. Cats wake up early with the urge to hunt. The urge may be enforced by other animals your cat can see out the window. However, early morning meows may also be due to hunger. It's important to stick to a meal schedule for your cat so he or she knows when food is to be expected. This can reduce unnecessary meowing in the morning before you wake up.
3. Rolling around on the floor
Another common activity that's spotted in cats is rolling – felines seem to love rolling around on the ground and cooing in front of their owners. This is because they're yearning for affection! To show your cat some love, consider giving him or her Hartz Cat Treats. These treats are not only delicious, but they can help fight tartar build-up on your cat's teeth.
If you have any concerns about your cat's unusual behavior, don't hesitate to contact your veterinarian. He or she can give you more insight into why your pet is acting in a certain manner around the house.
Helpful Tips for your Furry Family
Can Dogs & Cats Get Coronavirus?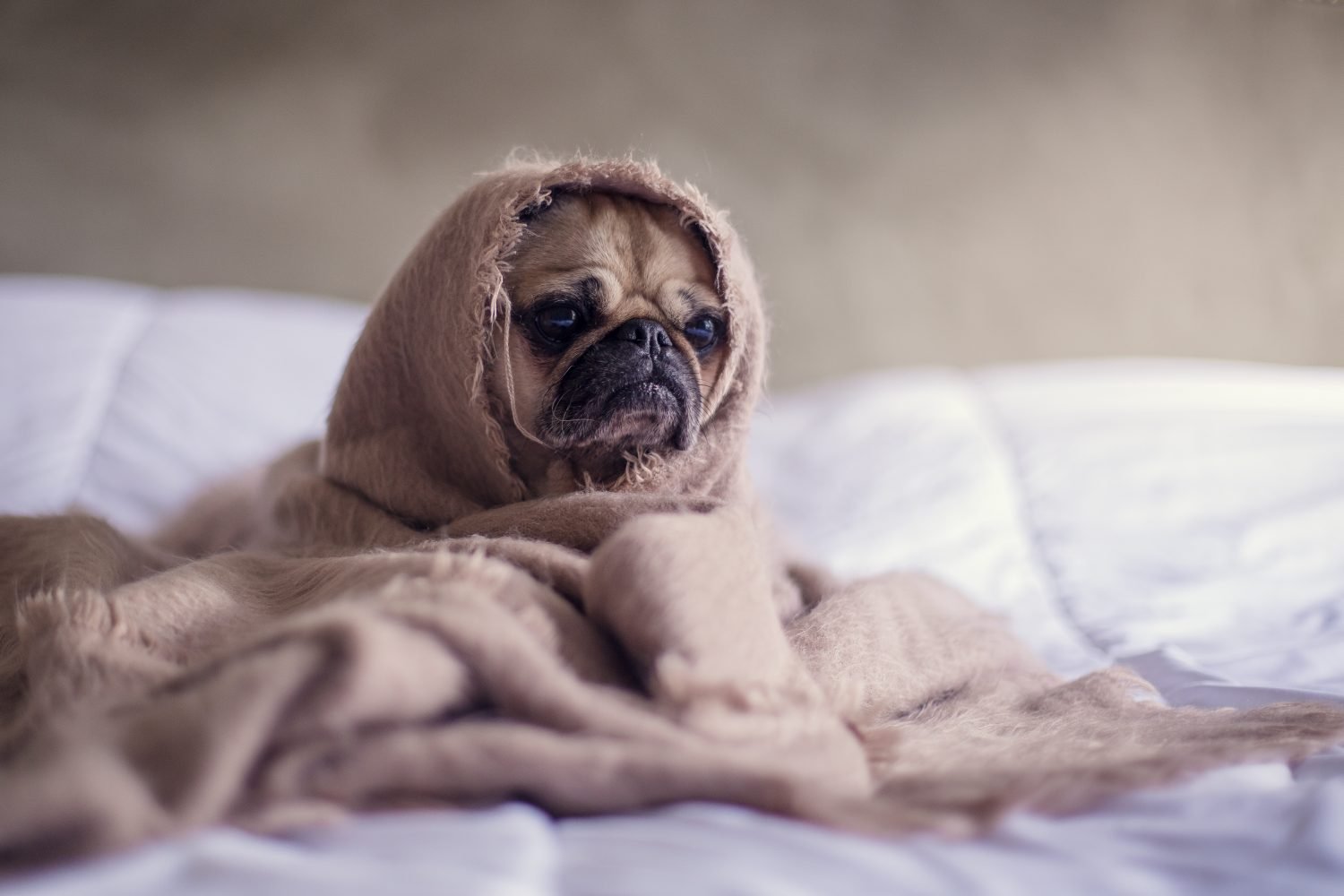 Recently, there have been reports of a very small number of pets - 2 cats in different areas of New York - becoming infected with COVID-19. For the first cat, the owner had been diagnosed with Covid-19 and is believed to have transmitted the virus on to their cat. In the second cat's household, no member of the family had been affected, nor were they displaying symptoms. They believe the cat got the virus outside of the home. About a month earlier, a tiger at the Bronx Zoo in New York tested positive for the virus. Sadly, other tigers at the zoo are also displaying symptoms. It's believed that an infected employee of the zoo unknowingly passed it on to the tiger. The good news in all of these cases is that all are expected to make a full recovery.
Now that it's confirmed a pet can get Covid-19, the CDC has released guidelines we should follow when it comes to our pets. For cats, owners should try to keep their cats indoors as much as possible. For dogs, owners should avoid high traffic, public places like dog parks. If you must take your dog out in public with you, keep your dog on a leash and six feet away from humans and other dogs. Do not allow others to touch your dog. For owners who just can't avoid public places with their dogs, a lead is a great way to keep your dog closer to you during these times. This will help you have more control over how close your dog is able to get to people.
If you've tested positive or you're displaying symptoms, it's recommended that you let a family member or friend take care of your pet. However, we know that isn't always possible, so if you need a way to keep your dog occupied while you rest, try out Petmate treat dispensing toys or chew toys. This will help relieve some of your dog's energy and keep him mentally stimulated while your rest. If you are sick, protect your pets and limit your exposure to them. You should avoid contact with animals just like you do with humans. If you must touch your pet, wash your hands before and after.
SIGNS AND SYMPTOMS TO LOOK FOR
Watch for these signs if you think your pet may have a form of coronavirus that animals can get:
Diarrhea
Feeling lethargic
Low appetite
Low energy
Runny nose
High temperature
If your pet is displaying these symptoms, take them to the vet immediately without hesitation. There might be something your vet can do to fight the symptoms and make your pet more comfortable. The most important thing to do if your pet has a virus is to keep their environment as clean as possible and do everything you can to prevent the virus from turning into a mortal disease. Unfortunately, there are not any antibiotics that directly combat coronavirus. Your vet may prescribe an antibiotic to control secondary bacterial infections or to ease your pets symptoms.
If your dog or cat begins to show signs of contracting a virus and has diarrhea, one of the ways to tend to their intestinal problem is to withhold food for 24 hours. This will allow time for the infection to pass through their intestines. Once you wait 24 hours, you can start to slowly give your pet small, bland amounts of food at a time. This will help their tummy fight off the infection and allow time for their rectum to heal.
HOW TO KEEP MY PET SAFE FROM CONTRACTING CORONAVIRUS
According to VC Hospitals, pets can contract forms of the coronavirus by oral contact with infected fecal matter. There is also a possibility of them contracting the virus from coming into contact with infected food or bowls. Dogs typically do not show signs or symptoms until 4 days after contracting the virus. That means any dog you come into contact with at the dog park or other public spaces may be a CCoV carrier, but may not be exhibiting any signs yet. Any crowding and unsanitary conditions can also lead to passing the virus to other dogs. If you want to be 100% sure that you're not exposing your pet to any viruses, steer clear of dog parks, trails, boarding facilities, and other public spaces your dog may go.
Another way to keep your pet safe is the make sure that you do not allow your pet to come into oral contact with any foreign objects outdoors. Keeping your pet's daily encounters as sanitary as possible is the best front-line defense against the coronavirus. If you do want to allow your pet to enjoy the dog park, still feel free to do so. Just do not allow them to place their mouth on anything. Bring your own dog bowl and water and do not allow them to share bowls with any other dogs since the virus is transmitted orally.
CAN I GET CORONAVIRUS FROM MY PET?
The simple and comforting answer to the question above right now is no. So far, studies have shown that humans cannot contract coronavirus from their pets. With most viruses, humans and pets do not pass viruses to each other. To keep you and your pets safe, wash your hands for 20 seconds with soap and water. Do not cough into your hand. Instead cough into a tissue and throw it away immediately. If you do not have a tissue, cough into your arm. These small acts will keep both you and your pets healthy.
Helpful Tips for your Furry Family
July Fireworks: Keeping Them Calm
Ahh, the good old 4th of July—backyard barbeques, family time, and an excuse for a day outdoors with the dog you love. But when dark sets in, and neighbors start launching their star-spangled display of lights around the block, your dog will likely want to run for the hills! Much like thunderstorms, the loud, vibrating noise of fireworks is both unfamiliar and frightening to our dogs. But look on the bright side—there are ways you can help keep their fears at bay.
The key is to gradually get your dog accustomed to the sound he associates with a negative experience. The easiest way to introduce him to the idea is to play videos of fireworks—with good sound quality—on repeat until he slowly begins to welcome the experience. Simply go on YouTube and do a video search for fireworks. Start off using a lower volume, and give him a treat or cuddle with him so he can begin associating fireworks with positivity. If he starts to panic at any point, turn the volume down and take a break. Depending on his comfort level, turn the volume up when needed.
Something else to remember is dogs smell fear. Make sure you react positively to any fireworks display when in your dog's presence. Act as if you would any other day and try not to baby him because this may actually reinforce his fear. Instead, try drowning out the noise with a loud fan, background music, or your favorite T.V. show.
Some of your dogs may react more seriously to a fireworks display than others. If your dog suffers from a serious phobia of fireworks, your vet will be the best source for guidance and answers. He or she may want to prescribe your dog medication or suggest sessions with a trainer or behaviorist.
Your dog may never fully welcome the sound of fireworks, but the good news is there is such a thing as making progress. With a little patience, anything is possible!
source: https://www.pedigree.com/dog-care/health/Independence-Day