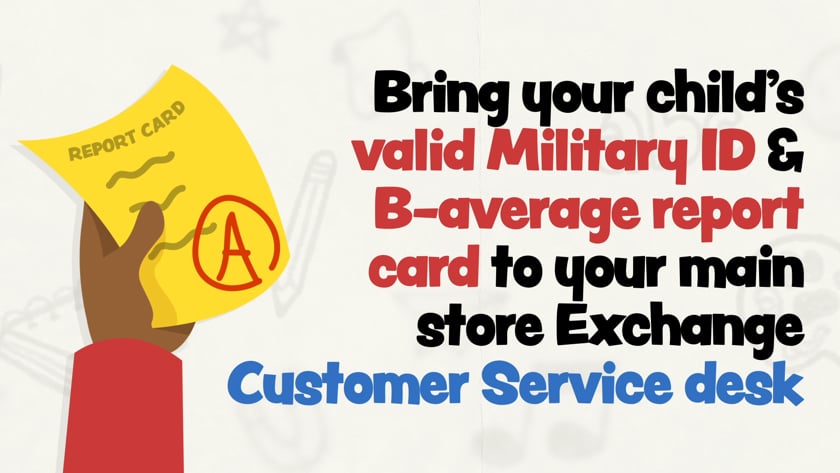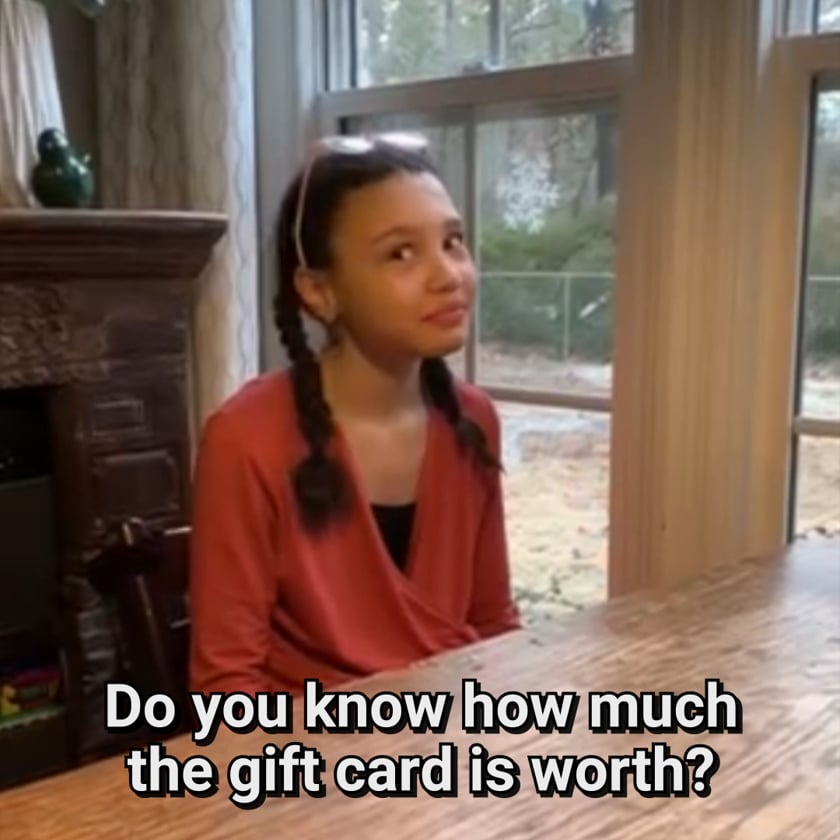 Straight A students get a $20 REWARDS! gift card & B Average students get a $10 REWARDS! gift card along with a coupon sheet to take advantage of your great Exchange offers.
Students who make the grade qualify to enter a worldwide sweepstakes to win a $2,000, $1,500 or $500 REWARDS! gift card. Drawings are held in December and June.
TO ENTER: You Made the Grade sweepstakes entry forms are on the back of the Exchange gift card carrier sleeve. Students can send completed forms to:
You Made the Grade
PO Box 227398
Dallas, TX 75222-7398
4th Grade - U.S. Army Garrison Stuttgart
When Patch Middle School fifth grader Naya Johnson found out she won a $2,000 gift card in the Army & Air Force Exchange Service's You Made the Grade sweepstakes, she was more surprised than most winners.

"I had forgotten that I entered into the drawing!" said Naya, who was randomly selected as the grand-prize winner from more than 850 entrants in the sweepstakes. "After I remembered the contest, I was excited."

The Exchange's You Made the Grade program rewards students in first through 12th grades for above-average academic achievement to inspire them to continue striving for excellence. Military children who maintain a B average or higher can bring their report cards each grading period to their local Exchange for a gift card and other prizes. Students can then enter the worldwide sweepstakes for a chance at a $2,000, $1,500 or $500 Exchange gift card.

USAG Stuttgart Chief of Staff Maj. Craig Bonham, EUCOM Commandant Col. Ryan Roseberry and AFRICOM Commandant Col. Lynn Ray joined Exchange Panzer General Manager Carla McDowell and Exchange Main Store Manager Robin Boylan in presenting Naya with her prize at the Exchange on Jan. 27. Naya was joined by her parents—mom, Colette, and dad, naval aviator Cdr. Aaron Johnson, who serves as the Deputy Chief of the EUCOM Reserve Management Office—and two younger siblings.

"The Exchange is thrilled to award this prize to Naya for all her hard work in school," McDowell said. "She's a great example to her peers, and we're proud that she's part of our community."

Naya's favorite subjects are social studies, video production and piano. Outside of school, she plays soccer and basketball.

This was the first time the Johnson family had entered the sweepstakes, and though Naya is not yet sure how she'll spend her winnings, she plans to share her good fortune with others.

"I'm still thinking about it," she said. "I do know that I want to save some of the money to buy gifts for kids in need."
3rd Place - Kyrene Morgan Joves
4th Grade - Camp Humphreys
Kyrene Morgan Joves, a fourth-grade student at Central Elementary School, had to question her father, Army Sgt. Mark Joves, a practical nursing specialist assigned to 197th Medical Detachment, when he told her she won $500 in the Exchange's You Made the Grade program.
"She was like, 'Really, I won?'" Mark said. "'Yes,' and then she got really excited and very happy."
Read the entire story on theexchangepost.com>
2nd Place - Ayleen Castillo
6th Grade - Kadena Air Base
Maribel Castillo, Marine spouse and homemaker, had to take a second look at her email when she received a message stating that her daughter, Ayleen, had won $1,500 by winning second place in the Army & Air Force Exchange's You Made the Grade sweepstakes.
A little perplexed, she reread the email to ensure that her eyes did not deceive her before telling Ayleen that she won the second-place prize—a $1,500 Exchange gift card.
"The first time I read the email, I thought it was spam," Maribel said. "The second time I read the email, I thought, OMG."
The official presentation took place Jan. 24 at the Kadena Exchange. Ayleen was joined by her father, 1st Sgt. Anthony Castillo, 3rd Marine Expeditionary Force Support Battalion, Camp Hansen; mother, Maribel; and siblings, Brianna and Anthony Jr., at the presentation.
Also at the ceremony were the Exchange Pacific Region command team: Col. Jason L. Beck, commander: Sgt. Maj. Generose Green, senior enlisted leader; David Swenson, Okinawa Exchange general manager; Flordeliza "Flor" Payton, store manager; and Col. Laura Ramos, 18th Mission Support Group commander.
"Ayleen has always been a good student by devoting herself to her academics and always striving to perform her best in school," Anthony said. "The You Made the Grade program encourages and motivates Ayleen to achieve scholastic excellence by helping her understand that hard work and dedication towards her academics will lead to rewarding results and benefits in her future career."
Ayleen's two favorite classes in school are physical education and mathematics but she excels in all her classes.
"Ayleen loves P.E. because she's very passionate about athletics and enjoys being challenged during competitive activities," Anthony said. "She also really loves math because she easily understands the concepts being taught and enjoys being able to help her peers."
During the presentation, Beck gave Ayleen her first military "Coin of Excellence" for her hard work and dedication, which resulted in her achieving straight A's. And when he asked her what she plans on doing with money, she said, "I want to buy an iPad mini."
The YMTG program improved robustly for school year 2022-2023. In previous years, students who earned at least a B average received a $5 Exchange gift card: this year, students with a B average received a $10 Exchange gift card and students who earned straight A's received a $20 Exchange gift card. Each gift card comes with a mail-in entry form to a worldwide YMTG sweepstakes.
In the first quarter, Kadena BX rewarded students with 1,147 gift cards totaling more than $15,300.
"The Exchange's You Made the Grade program is in its 22nd year, and it is such a great program for students," Beck said. "The Exchange will always continue to look for new and better ways to support our youngest heroes; they serve too."
Gallery of scholars, past & present