Watch a quick video about the Exchange Health and Wellness Program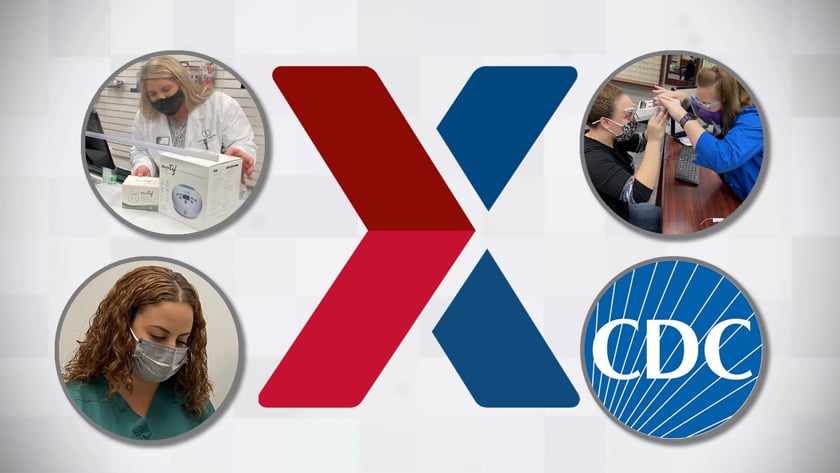 Exchange offers safe and sanitized services including:
Durable Medical Equipment
Exchange wellness services are accepting new patients so find one on an installation near you!
WELLNESS
Discover resources, tips & more.
Click on location name for address and contact info.
| | | |
| --- | --- | --- |
| Aviano (Italy) | | Durable Medical Equipment |
| Ansbach (Germany) | Coming Soon | Durable Medical Equipment |
| Andersen (Guam) | | Durable Medical Equipment |
| Andrews AFB | | Durable Medical Equipment |
| Andrews AFB | | Optical/Optometry |
| Barksdale AFB | | Optical/Optometry |
| Buckley AFB | | Optical/Optometry |
| Camp Foster, Japan | | Durable Medical Equipment |
| Camp Humphreys, Korea | Humphreys Dental Clinic | Dental |
| Camp Humphreys, Korea | | Durable Medical Equipment |
| Cannon AFB | | Optical |
| Carlisle Barracks | | Optical |
| Charleston AFB | | Optical |
| Columbus AFB | | Optical |
| Davis-Monthan AFB | Coming Soon | Dental |
| Davis-Monthan AFB | | Optical/Optometry |
| Dover AFB | | Optical |
| Dyess AFB | | Optical |
| Edwards AFB | | Optical |
| Eglin AFB | | Optical/Optometry |
| Eielson AFB | | Optical |
| Elmendorf AFB | | Optical/Optometry |
| Fort Belvoir | | Durable Medical Equipment |
| Fort Belvoir | | Optical/Optometry |
| Fort Belvoir | Coming Soon | Dental |
| Fort Benning | | Dental |
| Fort Benning | | Optical/Optometry |
| Fort Bliss | | Durable Medical Equipment |
| Fort Bliss | U.S. Cryotherapy | Cryotherapy |
| Fort Bliss | | Optical/Optometry |
| Fort Bragg | | Durable Medical Equipment |
| Fort Bragg | | Optical/Optometry |
| Fort Bragg | | Optical/Optometry |
| Fort Buchanan | | Optical/Optometry |
| Fort Buchanan | | Dental |
| Fort Campbell | | Optical/Optometry |
| Fort Campbell | | Dental |
| Fort Campbell | | Durable Medical Equipment |
| Fort Campbell | Coming Soon | Chiropractor |
| Fort Carson | Coming Soon | Chiropractor |
| Fort Carson | Coming Soon | Dental |
| Fort Carson | | Optical/Optometry |
| Fort Carson | | Durable Medical Equipment |
| Fort Dix | | Optical/Optometry |
| Fort Drum | | Optical/Optometry |
| Fort Eustis | | Dental |
| Fort Eustis | | Optical/Optometry |
| Fort Gordon | Coming Soon | Dental |
| Fort Gordon | | Optical/Optometry |
| Fort Hood | | Dental |
| Fort Hood | | Durable Medical Equipment |
| Fort Hood | U.S. Cryotherapy | Cryotherapy |
| Fort Hood | | Optical/Optometry |
| Fort Huachuca | | Optical |
| Fort Irwin | | Optical |
| Fort Jackson | | Optical/Optometry |
| Fort Knox | | Optical/Optometry |
| Fort Leavenworth | | Optical/Optometry |
| Fort Lee | | Optical/Optometry |
| Fort Lee | | Optical |
| Fort Leonard Wood | | Durable Medical Equipment |
| Fort Leonard Wood | | Optical/Optometry |
| Fort Lewis-JBLM | | Optical/Optometry |
| Fort Meade | | Optical/Optometry |
| Fort Myer | | Optical |
| Fort Polk | | Optical |
| Fort Riley | | Optical |
| Fort Rucker | | Optical/Optometry |
| Fort Sam Houston | | Dental |
| Fort Sam Houston | | Optical |
| Fort Sam Houston | | DME |
| Fort Sill | Coming Soon | Optical/Optometry |
| Fort Sill | Coming Soon | Dental |
| Fort Sill | Coming Soon | Durable Medical Equipment |
| Fort Stewart | Coming Soon | Chiropractor |
| Fort Stewart | | Optical/Optometry |
| Fort Stewart | | Dental |
| Fort Stewart | | Durable Medical Equipment |
| Fort Wainwright | | Optical |
| Grafenwoehr, Germany | | Optical/Optometry |
| Hill AFB | | Optical/Optometry |
| Holloman AFB | | Optical |
| Hunter Army Airfield | | Durable Medical Equipment |
| JBLM-McChord | Coming Soon | Chiropractor |
| JBLM-McChord | | Optical/Optometry |
| JBLM-McChord | Coming Soon | Dental |
| Kadena AB, Japan | | Optical/Optometry |
| Kaiserslautern (KMCC), Germany-Ramstein | | Optical/Optometry |
| Kaiserslautern (KMCC), Germany-Ramstein | | Durable Medical Equipment |
| Keesler AFB | | Optical/Optometry |
| Kirtland AFB | | Optical |
| Lackland AFB | | Optical |
| Lakenheath | | Durable Medical Equipment |
| JB Langley/Eustis | | Dental |
| Langley AFB | | Optical/Optometry |
| Little Rock AFB | | Optical |
| Luke AFB | | Dental |
| Luke AFB | Platinum Venture Group | Durable Medical Equipment |
| Luke AFB | | Optical |
| MacDill AFB | | Durable Medical Equipment |
| MacDill AFB | | Dental |
| MacDill AFB | Coming Soon | Optical |
| MacDill AFB | Coming Soon | Chiropractor |
| Madigan Hospital Fort Lewis | | Optical |
| March ARB | | Optical/Optometry |
| Maxwell AFB | | Optical |
| McChord AFB | Coming Soon | Dental |
| McChord AFB | | Durable Medical Equipment |
| McChord AFB | | Optical/Optometry |
| McConnell AFB | | Optical/Optometry |
| JB McGuire-Dix-Lakehurst | | Optical/Optometry |
| Moody AFB | | Optical |
| NAS JRB Fort Worth | | Optical/Optometry |
| Nellis AFB | | Durable Medical Equipment |
| Nellis AFB | | Optical/Optometry |
| Nellis AFB | Coming Soon | Chiropractor |
| Offutt AFB | | Optical/Optometry |
| Patrick AFB | | Optical/Optometry |
| Peterson AFB | | Optical/Optometry |
| Ramstein, Germany | Coming Soon | Optical/Optometry |
| Ramstein, Germany | Coming Soon | Dental |
| Randolph AFB | | Optical |
| Redstone Arsenal | | Optical |
| Robins AFB | | Optical |
| Schofield Barracks | | Durable Medical Equipment |
| Schofield Barracks | Pearl Harbor Vision Center | Optical |
| Scott AFB | | Optical |
| Seymour Johnson AFB | | Optical |
| Shaw AFB | | Optical |
| Spangdahlem, Germany | | Optical/Optometry |
| Spangdahlem, Germany | | Durable Medical Equipment |
| Stuttgart, Germany | Coming Soon | Dental |
| Stuttgart, Germany | | Durable Medical Equipment |
| Tinker AFB | | Durable Medical Equipment |
| Tinker AFB | | Optical |
| Travis AFB | Coming Soon | Dental |
| Travis AFB | | Optical/Optometry |
| Tripler Arm Hospital, HI | | Durable Medical Equipment |
| Tyndall AFB | | Optical |
| U.S. Air Force Academy | | Optical |
| West Point Military Academy | | Optical |
| White Sands | | Optical |
| Wright Patterson AFB | | Optical |
| Yokota Air Base | | Optical |